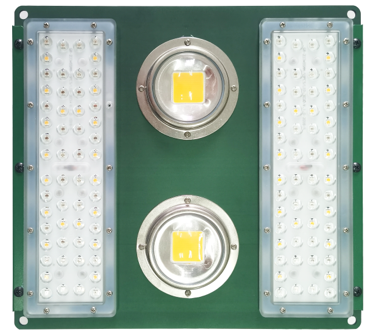 The Unicorn Series 160W LED Grow Light
We call it the "Unicorn Light" because we couldn't find anything quite like it off the shelf, so we had to build it ourselves!  This LED light uses state-of-the-art COB lights in combination with traditional diodes to create a light designed for use in confined spaces, such as inside The Armoire.  This light will bathe the entire space in light, covering the precise spectrum needed.   We've create a light that's high in PAR, with super low wattage and low power consumption.  This not only keeps costs down, but also lowers the heat signature of the unit. 
Dimmable knobs provide you with precise control over light output (versus just on/off switches for veg & bloom like most traditional "old school" lights). 
Add our unique design flair, and you have a great little unit that punches way about its weight class, so to speak.